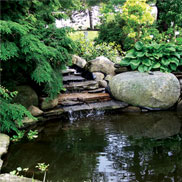 Pond Consultations
Do you love your pond, but can't figure out how to keep it beautiful? Don't pull your hair out, come see us!
Can't see your fish? We can help!
Inherit a pond and have no idea where to start? We can help!
Looking to build a new or upgrade an existing pond? We can help!
If speaking to our knowledgeable staff isn't enough, they can sign you up for a FREE Pond Consultation* with the purchase of a $500 gift card.  Sorry, gift card not valid to use in the Raven's and Oriole's store or Signature Landscape services.
*There is a limited service area and is not for the purpose of researching or repairing leaks.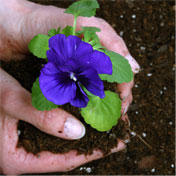 We Plan… You Plant!
Do you want to create a beautiful landscape?  No idea where to start?  We have the perfect program for you.  We Plan… You Plant!
Step 1: Purchase a $500 gift card and receive a booklet for you to fill out. Return the booklet with pictures of the garden*.  Once the booklet is returned, please allow 7-10 days for the next steps to occur.
Step 2: A member of our staff will review the information you provided, prepare a sketch complete with a recommended plant and product list. Then we'll contact you to set up an appointment to review our suggestions.
Step 3: You will then meet with a member of our staff for 30 minutes.
If it turns out you only thought you were a "Do It Yourselfer" but you really aren't – let our landscape crew lend a helping hand.
* This service is limited to gardens approximately the size of a typical front foundation of a Parkville home.  The gift card is only valid for garden center purchases.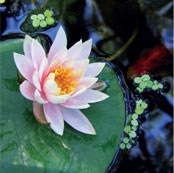 Diagnostics & Analysis (Plants & Pond)
When working and caring for any live things from plants to fish, there's always a possibility for issues to arise. Don't worry, we have the solution… maybe.
Reasons you may visit us:
Insect, disease or critter problems with your plants.
Find the right nourishment for any plant.
Fish having a bad day or pond misbehaving.
We think we have heard it all, but bring it on!
With our wide variety of treatments and tricks, we will put our heads together to help bring life back to your beloved landscape.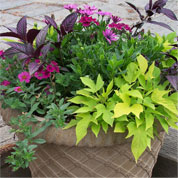 Custom Potting
If our "Containers to Go!", don't quite excite you, try our Custom Potting Service.  There is a very reasonable (in our opinion) fee which is based on the size of the container.
Step # 1:  Select your plants and container (or bring one from home).
Step # 2:  Review the arrangement with our staff.  We supply the potting mix, slow release fertilizer, and soil moist for those dry summers. *
Step # 3:  Place the instant gorgeousness on your front porch – AND you can even tell everyone you did it!
*Many times we can pot while you wait but this may not be feasible during busier times, larger projects, or sometimes we're just short staffed (blame Poor Boy).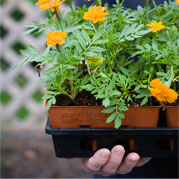 Delivery
Don't have a truck? No worries, we can deliver anything from our garden center to you! Poor Boy does most of our deliveries and for those who haven't seen him in a while, we need to get him a little more exercise!
Rules: (They're more of what you call "guidelines" than actual rules)
Fees are based on your zip code*, usually delivered within 24-48 hours.
For the same fee we will deliver anything that fits into our truck, which is a lot!
Tailgate service only. Sorry, our trucks do not leave hard surfaces.
*There is a limited service area, please inquire about fees. Some larger items such as boulders may require a bit more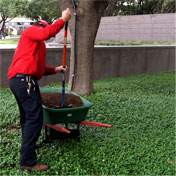 Planting
Do you have a brown thumb or just not feeling it today? One of our landscapers can plant any of our plants* for you. We do request that you contact Miss Utility prior to planting service to avoid a $75 fee.
Fees are based on plant or container sizes with minimum fees based on your zip code.
Service is usually performed within 3-5 days after we are notified that Miss Utility has been on sight. Planting includes delivery, fertilizer and mulch.
Just place the provided flag labeled with the plant name where you want it planted. BAM! It will be planted by the Poor Boy Santa!
Extra fees will be applied for plant removal, disposal, staking, stump removal, etc. at a rate of $60 per hour per person.
The most work you will have to do is stop in to get the ball rolling and keep the plant(s) watered! Throw some water on your face and take the credit for it, maybe you will get the night off.
*This service is best suited for trees and shrubs due to the minimum fee requirements.